I finished
The Book Thief
by Markus Zusak this weekend and I hardly know how to describe it.
Yeah, it was that good.
I'll admit this: I cried at least three times during this book. The writing was so...heartbreaking, yet poetic.
And I hate Markus Zusak for being such a great writer. Jealousy!
Anyways, the book takes place in Nazi Germany. The main character, Liesel, is forced to live with foster parents with her biological mother can no longer care for her. The book begins when she's nine years old, and ends when she's fourteen, giving the reader ample time to understand her complex outlook on life.
One of my favorite characters was Hans Hubermann, Liesel's foster father. He plays the accordion like no one else can, and his eyes are often described as "silver".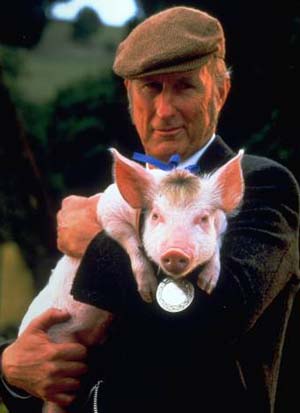 This is what I imagine he looks like (the man, not the pig).
And then there's Rudy Steiner, the boy with "hair the color of lemons". Oh, Rudy, you're the most sincere boy I've ever read.
I feel like I can hardly express the greatness of this book, so promise you'll read it yourself, kay?